Boom-Boom
Biographical information
Name

Tabitha Britney Smith

Born
Birthplace
Aliases/Nicknames

Meltdown, Nancy Forrester

Nicknames

Tabby, Boomer, Firecracker, Time Bomb

Physical description
Species
Gender
Height

5'8"

Hair Color

Dyed Blond

Eye Color

Hazel

Family information
Family

Marty Smith (father)
Mandy Smith (mother)


Statistical information
Affiliation
"Come on, guys. It's like... we're gonna have to do something... and fast!"
―Boom-Boom
Biography
Edit
Early life
Edit
Personality and traits
Edit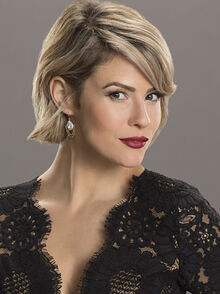 "Yeah! Look out below. Boom Boom is bombin' in. Whoohooo."
―Tabitha Smith
"Hey, not to spoil this dramatic moment but I have a question -- if the cathedral was the intersection of all possible realities -- how do we know we returned to the right one?"
―Tabitha Smith
"Look, Jube. If you don't shut up about all the things that Wolvie told you... I'll drown you in glop, I swear I will."
―Tabitha Smith
"Fine, then. Since you all seem to know what's best for me. Maybe I don't belong on this team anymore."
―Tabitha Smith
"Okay tin man, I know what you came for -- a heart! Too bad no one warned you about the heartache that comes with it."
―Tabitha Smith
Relationships
Edit
Powers and Abilities
Edit
Time Bombs: Boom-Boom could create balls of plasma, which she called her "time bombs." These "bombs" exploded with concussive force. She could produce marble-sized "bombs" which had little concussive impact and which she used for playing pranks. She had produced "time bombs" ranging up to the size of beach balls, which, when they exploded, could smash tree trunks and even metal objects. The amount of concussive impact depended on the size of the bomb she created, and she could, at least to some extent, control the amount of time until it detonated.
Abilities
Edit
Appearances
Edit
Notes and references
Edit
Ad blocker interference detected!
Wikia is a free-to-use site that makes money from advertising. We have a modified experience for viewers using ad blockers

Wikia is not accessible if you've made further modifications. Remove the custom ad blocker rule(s) and the page will load as expected.