Sharon Carter
Biographical information
Name

Sharon Carter

Born
Birthplace
Aliases/Nicknames

Irma Kruhl, Agent 13

Physical description
Species
Gender
Height

5' 8"

Hair Color

Blonde

Eye Color

Blue

Family information
Family

Harrison Carter (father)
Amanda Carter (mother)
Margaret "Peggy" Carter (aunt)

Statistical information

Occupation

Special Field Officer of S.H.I.E.L.D.

Education

College Graduate

Affiliation
"I may be a female, but that doesn't mean I'm helpless!"
―Sharon Carter
Early life
Edit
Sharon Carter was the daughter of Harrison and Amanda Carter, two wealthy Virginians, and the niece of Margaret "Peggy" Carter, a heroic freedom fighter during World War II who had shared many adventures with the great hero Captain America before his supposed death at the end of the war. When Peggy returned home in need of hospitalization from traumatic shell-shock, she told her niece many stories about Captain America.
S.H.I.E.L.D.
Edit
Inspired by these tales and her own aunt's exploits, Sharon decided to become an agent of S.H.I.E.L.D., the international espionage agency. On her first major assignment, Sharon Carter, code-named Agent 13, was chosen to pick up a cylinder containing the powerful explosive called Inferno-42 from a S.H.I.E.L.D. agent who had stolen it from THEM, the governing body of the subversive organization Hydra. By coincidence, Captain America, in his secret identity of Steve Rogers, saw Carter on her way to receive the cylinder and was struck by her close resemblance to her aunt Peggy. However, Rogers had no idea who Sharon Carter was, having known Peggy only by her cover identity.
Soon afterward, Sharon Carter was attacked by the costumed mercenary Batroc, who had been hired by THEM to recover the cylinder. As Captain America, Rogers came to her assistance and, while he and Batroc battled each other, Carter made off with the cylinder, unaware that its casing had been damaged, activating the explosive within. Learning from Batroc that she was a S.H.I.E.L.D. agent, Captain America went in pursuit of her, and succeeded in saving her life and preventing THEM from making use of the explosive.
Captain America continued to cross paths with Carter as the two adventured, only knowing her as Agent 13. On one adventure, Captain America rescued her from the subversive group A.I.M., and the two fell deeply in love with each other. After a later assignment bringing down the Nazi Red Skull's "Fourth Sleeper" robot together, Carter was allowed by S.H.I.E.L.D. to reveal her secret identity to Captain America. The two became lovers and remained allies for many subsequent missions.
Powers and Abilities
Edit
Abilities
Edit
Personality and traits
Edit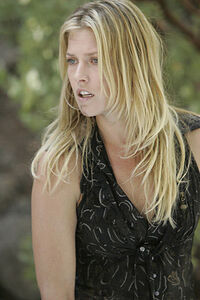 "I'm going to dress that hussy down when this is over!"
―Sharon Carter
Relationships
Edit
Steve Rogers
Edit
"Looks like you're avoiding the altar again, Rogers. I love you."
―Sharon Carter
"Listen to me! The Sleeper is the deadliest thing on earth! If you think I'll risk your life --"
"Has anyone ever told you how handsome you are when your eyes flash that way?"
―Steve Rogers and Sharon Carter
---
Appearances
Edit
Notes and references
Edit