"To be a bitch or not to be a bitch, that is the question."
―Prue Halliwell
Prudence "Prue" Barnes (née Halliwell) was the wife of Brandon Barnes with whom she has two children Carter and Devi. Prue was also one of the powerful Mutant Halliwell sisters.
Early Life
Prudence Halliwell was born on October 28th, 1966 to Patty Halliwell and Victor Bennett. She was named after Prudence Warren, the daughter of Melinda Warren, the founder of the Warren line, and is the older sister of Piper and Phoebe, and the half-sister of Paige Matthews. Young in her adult life, Prue developed the power of Telekinesis, which allowed her to move objects with her mind.
Powers and Abilities
Powers
Abilities
Personality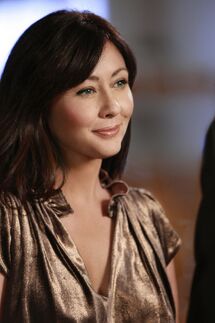 "You ever want something so bad and then you finally get it and it turns into a complete nightmare?"
―Prue Halliwell
Relationships
Family
Romantic Life
Romantic Interests
---
Friends
---
Notes
Links
Ad blocker interference detected!
Wikia is a free-to-use site that makes money from advertising. We have a modified experience for viewers using ad blockers

Wikia is not accessible if you've made further modifications. Remove the custom ad blocker rule(s) and the page will load as expected.