Peter Wisdom
Biographical information
Name

Peter Paul Wisdom

Born

August 10, 1980

Birthplace
Physical description
Species
Gender
Height

6'2"

Hair Color

Dark Brown

Eye Color

Hazel

Family information
Family

Harold Wisdom (father)
Jane Wisdom (mother)
Romany Wisdom (sister)


Statistical information
Affiliation
"Morning. We're MI-6, and we haven't had our breakfast."
―Peter Wisdom
Peter "Pete" Wisdom was an intelligence agent for the British government organization MI-6 and later a member of Excalibur.
Biography
Edit
Early life
Edit
Peter Paul Wisdom was born to Harold Wisdom and his wife in Preston, England along with his older sister named Romany. His father was a retired detective sergeant and criminal profiler for New Scotland Yard.
Eventually Wisdom went to the University of Manchester where he studied marine biology and criminology.
After graduating college, in part because of his father's influence, Peter was invited to become a part of the British Governments MI-6.
Personality and traits
Edit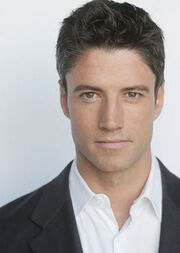 "Just you and me, children. Saving the world. From itself."
―Peter Wisdom
Relationships
Edit
Powers and Abilities
Edit
Hot Knives: Peter Wisdom could absorb ambient heat and solar radiation, and release the absorbed energy from his fingertips as semi-solid energy projections called 'hot knives'. His Hot Knives were pure thermal energy, said to be as "hot as the surface of the sun". Pete could also use them to form shields to burn incoming missiles or to generate thermals beneath him as he fell to slow his descent. He could use these blade-shaped darts of pure heat as projectiles or occasionally as slashing weapons. Pete had excellent control of his knives, able to cause severe damage or just to stun.
Abilities
Edit
Appearances
Edit
Notes and references
Edit
Ad blocker interference detected!
Wikia is a free-to-use site that makes money from advertising. We have a modified experience for viewers using ad blockers

Wikia is not accessible if you've made further modifications. Remove the custom ad blocker rule(s) and the page will load as expected.