M
Biographical information
Name

Monet Yvette Clarisse Maria Therese St. Croix

Born
Nicknames

Moni

Physical description
Species
Gender
Height

5'3"

Hair Color
Eye Color

Brown

Family information
Family

Carter St. Croix (father)
Janet St. Croix (mother)
Marcus St. Croix (brother)


Statistical information

Occupation

Adventurer

Affiliation
"You just put six holes in a Louis Vuitton shirt and you expect me to 'wait'? For what? The 'fashion police?"
―Monet St. Croix
Monet Yvette Clarisse Maria Therese St. Croix was the daughter of Carter and Janet St. Croix and the younger sister of Marcus as well as a member of the X-Men.
Biography
Edit
Early life
Edit
Born to Carter St. Croix and his wife Janet on June 27, 1987 in Sarajevo, Bosnia where Monet lived for the first five months of her life until her family relocated back to her mother's home country of England, settling in Surrey. Monet lived with her family in Surrey up until the age of twenty-two after completing college when she decided to move to New York.
Personality and traits
Edit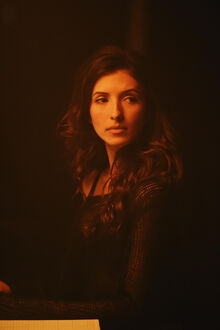 "It's an odd feeling. Being insufferably smug suits me far better, I think."
―Monet St. Croix
"I swear to God that if someone calls me a bloody "New Mutant" again, I will cut their head off."
―Monet St. Croix
Relationships
Edit
David Haller
Edit
Powers and Abilities
Edit
Telepathy: Ability to read minds and project her thoughts into the minds of others and defensively mask her mind against telepathic intrusion. Monet had also been shown to be capable of other basic telepathic abilities such as illusion casting and memory wiping. The range of her telepathy was generally limited to within a few feet of Monet.
Superhuman Stamina: Her physical stamina was such that she possessed greater physical stamina than any ordinary human and could exert herself at her peak for up to 24 hours before the build up of fatigue toxins in her blood began to impair her.
Flight: Her flight speed was at least 500 MPH.
Superhuman Speed: Her speed was greatly enhanced far more than peak human. Her top speed wasn't known but she could move at least 100 mph.
Healing Factor: Should Monet be injured somehow, she possessed a regenerative quality allowing her to heal and recover from near-fatal wounds, but very slowly.
Enhanced Senses: Monet's senses were so advanced that she possessed telescopic vision, night vision and superhuman acute hearing.
Abilities
Edit
Appearances
Edit
Notes and references
Edit