Maria Hill
Biographical information
Name

Maria Hill

Born

June 2, 1979

Birthplace
Physical description
Species
Gender

Female

Height

5' 7½"

Hair Color

Black

Eye Color

Brown

Family information
Family

Ed Vernon (father)
Ms. Hill (mother)

Statistical information

Occupation

Former deputy director of S.H.I.E.L.D., Leader of main Avengers

Affiliation
"I'm the director of S.H.I.E.L.D.. Lying to the entire world is in the job description. Right next to "some overtime required," which I would like to point out is a severe understatement."
―Maria Hill
Maria Hill was a director of S.H.I.E.L.D. and a former marine.
Biography
Edit
Early life
Edit
Maria Hill was born in Chicago, Illinois, on a cold night when temperatures hit -44°F. While still in the hospital, Maria's mother died, and her father Ed blamed it on her. The abuse Maria endured from her father turned her into cold and troubled person. After finally falling out with her father, Maria joined the Marine Corps.
S.H.I.E.L.D.
Edit
After serving with the Marines, and while still being fairly young, Maria joined S.H.I.E.L.D.. One of her earliest missions involved rescuing Agents Bradley and Reynolds, whose mission of infiltrating the ranks of the terrorist organization Hydra became compromised. Even though Reynolds was a senior agent, Hill decided to follow S.H.I.E.L.D.'s rules and relieve him, deeming him mentally unfit to take command. Reynolds refused to listen to Hill, and the skirmish resulted in Reynolds being caught in enemy fire.
Personality and traits
Edit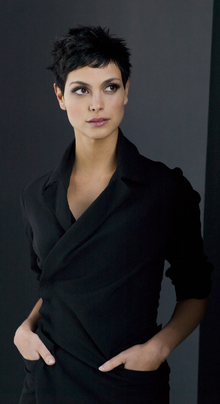 "You should have this job. And wouldn't that piss off all the right people."
―Maria Hill
Relationships
Edit
Tony Stark
Edit
Wade Wilson
Edit
Appearances
Edit
Notes and references
Edit