"It was so quiet in here. And I hate myself when it's quiet."
―Donna Prince
Donna Prince (also known as Wonder Girl) was the sister of Diana Prince.
Donna has also been a member of the Justice League.
Early Life
Edit
Donna Prince was born on December 2, 1983 in Atlantic City, New Jersey to Robinson and Deanna Prince.
Powers and Abilities
Edit
Donna Stavros is a level 4 Mutant.
Superhuman Strength: Donna possesses superhuman strength reasonably comparable to her sister Diana. She is able to lift at least 25 tons.
Superhuman Durability: Donna was more resistant to injury than a normal human.
Superhuman Stamina: Donna could exert her maximum effort for several hours before tiring.
Superhuman Speed: Like her sister Diana, Donna could move at speeds much faster than finest human athlete. She could move fast enough to not register in the normal peripheral range of humans and seemingly vanish and disappear at will. She was fast enough to deflect and catch bullets.
Flight: Donna could also fly through the atmosphere through sure act of will, enabling her to soar through the atmosphere at sub-orbital levels and travel across the planet. She was immune from the effects of extreme height, such as dizziness and light-headedness.
Abilities
Edit
Photography: Donna was a professional photographer.
Personality
Edit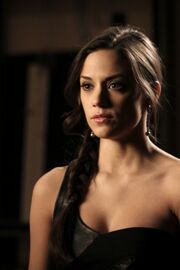 "I don't wanna forget about what happened to me. You know once I accepted that I can't run from it, my scars didn't look so bad."
―Donna Prince
Romantic Life
Edit
"Don't tell any of the boys that I'm sober. That way if I do anything slutty, I can still blame the booze."
―Donna Prince
Romantic Interests
Edit
References
Edit
Ad blocker interference detected!
Wikia is a free-to-use site that makes money from advertising. We have a modified experience for viewers using ad blockers

Wikia is not accessible if you've made further modifications. Remove the custom ad blocker rule(s) and the page will load as expected.