"It's always been my problem, lots of protection, but no one to protect."
―Brandon Barnes
Brandon Barnes was a field agent for S.H.I.E.L.D., a former Journalist and the younger brother of James Barnes.
Brandon was also the husband of Prudence Halliwell and the father of Carter Barnes and Devonne Barnes.
Early Life
Powers and Abilities
Powers
Abilities
Paraphernalia
Equipment
SHIELD uniform, made from 9-ply Kevlar (able to withstand ballistic impact up to .45 caliber bullets)and beta-cloth, a fire-resistant material whose kindling temperature is 1,700 °F (930 °C). Numerous S.H.I.E.L.D. paraphernalia including a radio-link tie, and a bulletproof suit.
Transportation
Various air, land, and sea craft provided by S.H.I.E.L.D..
Weapons
A government issue .45 caliber semi-automatic Heckler & Koch HK45, an automatic 7.62 mm FN MAG, and a 5.56 mm M16 rifle. Also, an array of SHIELD weapons, conventional and otherwise.
Personality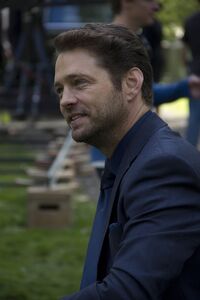 "I like my inhibitions. I'm used to them."
―Brandon Barnes
Relationships
Family
Romantic Life
Romantic Interests
---
Friends
---
Notes
Links
Ad blocker interference detected!
Wikia is a free-to-use site that makes money from advertising. We have a modified experience for viewers using ad blockers

Wikia is not accessible if you've made further modifications. Remove the custom ad blocker rule(s) and the page will load as expected.