"Whoever did this to me... whoever brought me here against my will... I'm coming to end you."
―Aldrif
Aldrif (also known as Angela Golmen) was an Aesir warrior who served as a member of the Avengers.
Biography
Edit
Early life
Edit
Personality and traits
Edit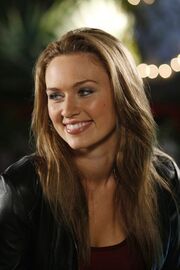 Powers and Abilities
Edit
Superhuman Strength: As the daughter of Odin and Frigg, she naturally had far greater strength than the average Aesir. Aldrif was once able to match an admittedly weary and wounded Thor blow for blow, though she noted that he had a slight edge in raw strength. At the same time, she believed that she was far faster than he was.
Superhuman Stamina: Aldrif's advanced musculature was considerably more efficient than that of a human and most other Asgardians. Her virtually inexhaustible stamina enabled her to hold her breath for an undefined period of time, and exert herself at peak capacity for months without tiring at all.
Superhuman Speed: Aldrif was very fast, even for a Goddess. It was said that she was faster than the Dísir, who were faster than the speed of lightning.
Superhuman Durability: Being an Asgardian Goddess, Aldrif possessed virtual invulnerability and immunity to all known Earthly diseases and infections.
Healing Factor: Aldrif was not invulnerable to all harm and it was possible to injure her. But due to her unique physiology she was able to heal from most injuries much faster than a mortal being could.
Longevity: It was a common misconception that Aldrif and the other Gods of Asgard were truly immortal. Aldrif and the other members of her race did age but at a rate so slow that to other beings they gave the appearance of immortality.
Flight: Aldrif had the ability to fly and levitate.
Abilities
Edit
Paraphernalia
Edit
Transportation
Edit
Relationships
Edit
Appearances
Edit
Notes and references
Edit
Ad blocker interference detected!
Wikia is a free-to-use site that makes money from advertising. We have a modified experience for viewers using ad blockers

Wikia is not accessible if you've made further modifications. Remove the custom ad blocker rule(s) and the page will load as expected.